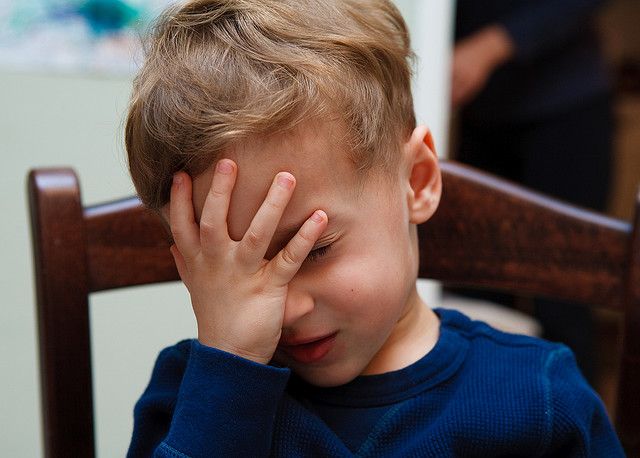 Oooooh…  Tarnation! They just keep flubbing the law! Teacher's gonna be mad…
The bad boys and girls of the Clinton Township school board are at it again.
A candidate in the November 6 Clinton Township school board election misused a Clinton Township recreation department Commissioner's mailing list for his personal benefit, to tell parents of young soccer players to vote for him and his running mates.
New Jersey statute prohibits using an official position "to secure unwarranted privileges." Even a fifth grader is smart enough to get this — you don't need to check the ethics laws, or to consult a lawyer, to know you should not cheat to win.
What does it take for this crowd to behave like adults?
The 3 Ms: Campaigning with a municipal mailing list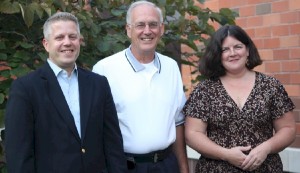 Daniel McTiernan was appointed to fill a vacant seat on the school board in 2012. On November 6 he was elected for a three-year term along with Kevin Maloy and Rachel McLaughlin. The three campaigned as a team against just one unknown, newbie candidate, and call themselves "The 3 Ms."
None of them had ever been elected before. All three were appointed to fill vacated seats. McLaughlin ran in school board elections twice before, but lost.
It seems their campaign needed a little last-minute boost.
Township Commissioner of Soccer
McTiernan is also a Commissioner of girls' soccer for the Clinton Township recreation department. According to the township's recreation director, McTiernan is provided with an Excel spreadsheet listing names and contact information of parents whose children play on the rec soccer team.


The list is supposed to be used only for official communications about the soccer program.
But on November 2, McTiernan improperly used his official Township position and the Township mailing list to boost his team's political prospects by telling soccer parents to vote for the 3 Ms. It's a benefit their sole competitor — Jill Setaro — didn't have. It's a "benefit" that New Jersey law prohibits.
"Vote the 3 M's"
Signing it with his official title, "Commissioner u 15 girls soccer," McTiernan sent an e-mail to 62 addresses ostensibly about soccer — but turned it into a political pitch for "the 3M's": Dan McTiernan, Kevin Maloy, and Rachel McLaughlin.
.


Unwarranted Privileges
The law is clear.
"No local government officer or employee shall use or attempt to use his official position to secure unwarranted privileges or advantages for himself or others;"
N.J.S.A. 40A:9-22.5(c)
A Township sports Commissioner using a Township mailing list to campaign: Was it just an innocent boo-boo?
Hardly. All through 2012 the school board has created a climate marked heavily by ethics issues, ethics accustions, and discussion of ethics at virtually every board meeting. Additionally, McTiernan is a human resources executive; a field in which regulatory compliance is more than half the job. McTiernan knows very well how important it is to understand ethics rules and to behave ethically. In the current school board climate, McTiernan's unethical behavior is inexcusable.
A History of Unethical Behavior
McTiernan, Maloy, and McLauglin have been key players in the mockery that school board president Jim Dincuff has made of the Clinton Township school district. They have repeatedly violated the law, misled the public, spent money they promised to return to taxpayers, attacked teachers publicly, and made insupportable accusations against citizens and board members who spoke against their budget and questioned their behavior.
Several newspaper editorials have railed against their behavior throughout 2012:
Clinton Township School Board should have been punished for Sunshine Law violations, Express-Times

Sunshine serves many purposes, Hunterdon Democrat

Taking sunshine seriously, Hunterdon Review
Misusing Municipal Lists for "Unwarranted Personal Benefit": More of The Same
I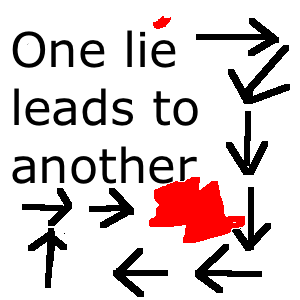 t started with squandering of property tax relief funds sent to the township by the governor — which the board spent, after promising to use it for the purpose it was intended. It turned into abuse of teachers in public during contract negotiations, and abuse of citizens during budget hearings. The misbehavior quickly expanded into abuse of two board members — Freda and Sullivan — who were accused of ethics violations and badgered by McTiernan and other board members to confess. Dincuff admitted he had no "irrefutable evidence" against them, and the public record shows there is no evidence against them whatsoever — or any indication that either of them did anything improper. Dincuff and the board have refused to withdraw the accusations.
Then the board graduated to serious violations of New Jersey law. Faced with a draft lawsuit from public-rights advocate John Paff, the board quickly admitted wrongdoing and passed a resolution promising to stop breaking the law.
Enough? Not by a longshot. Close on the heels of Paff's suit, Hunterdon County Prosecutor Anthony Kearns notified the board in July that it had violated multiple sections of the Open Public Meetings Act on multiple occasions. Even after the Prosecutor's warnings, the board continued to break the law again and again in 2012.
That's the record The 3 Ms ran on and won. (Never underestimate the ignorance or apathy of voters.) They won in part thanks to McTiernan's misuse of municipal lists in his role as a soccer Commissioner for the township. This unethical use of an official Township role is just more of the same for these school board members.
It should be no surprise
It should be no surprise that school board president Jim Dincuff's key flunkies on the board campaigned as a gang to stop one unknown candidate. They couldn't afford any more dissenting opinions on the board.
The effort seems to have been masterminded by the 4th M — board member Maria Grant — who owns the domain name 3ms4ctboe.com behind the political campaign. (If just one more board member had been directly involved in the campaign, it would have been an illegal quorum.) Here's the public record:
Some parents were so upset at the politicization of Clinton Township girls' soccer that they shared the e-mail with ExMayor.com.
Yada-Yada-Yada: The Core Values Statement
The school board has been working on a "Core Values Statement" which was initiated at two public board meetings with a special consultant — meetings which violated the New Jersey Open Public Meetings Act when the board failed to provide statutorily-mandated public comment periods. (This school board just can't stop breaking the law.) Dincuff has announced the board will be voting on the "Core Values" shortly.
But the "Values" include no mention of obeying the law or respecting the public — they merely define how board members shall behave toward one another, apparently to avoid embarrassment in public.
The Core Values statement says nothing about misusing one's official position for unwarranted personal benefit. The Core Values statement, distributed in draft form to the public, reveals that it's a meaningless collection of feel-good yada-yada-yada.
Welcome Your Politicized School Board
Say HELLO a new breed of "new" board members — seasoned political players.
Last February, "3 M" member Kevin Meloy voted against moving school board elections to November. He gave an impassioned speech, worrying that  the change would politicize school board elections by encouraging political alliances during campaigns.
How right he was.
McTiernan Should Resign
Daniel McTiernan will have to vote on the Core Values Statement. He votes on matters relating to a $30 million budget and to childrens' education. Having demonstrated blatant disregard for ethical behavior by using his Commissioner's role for his own political benefit, and for that of his cronies, McTiernan should resign his positions in the Township recreation department and the school board.
Or, what  is McTiernan teaching our kids on the soccer field? That they should look the other way when the coach cheats to win? That one little, itty-bitty transgression is okay… for adults?
We Don't Need No Stinking Values
Say HELLO to another new year of legal violations by a team that has shown again and again that it doesn't give a rat's batootie about the law, while they "manage" over $30 million of public funds, four physical plants, and the education of over 1,600 children.

You elected them. Say HELLO to the school board's new values — same as the old values. Nada.
Jim Dincuff's Last Stand
On March 29, 2012 Dincuff suggested board members Marc Freda and Michelle Sullivan should consider resigning, for "ethics violations" that existed only in his own fantasy. A few minutes later, Dincuff violated multiple sections of the New Jersey Open Public meetings Act — after his own attorney advised him not to conduct an illegal executive session.
Dincuff later admitted he had "no irrefutable evidence" against Freda and Sullivan — who denied any wrongdoing — but he refused to withdraw his accusations. But the accuser turned accused — and a few months later, Dincuff was reprimanded by the County Prosecutor for leading his board to commit violations of state laws. The evidence was irrefutable.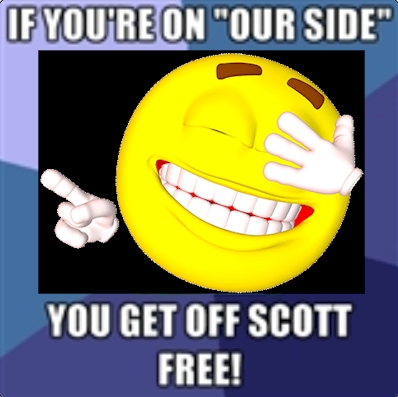 Now Dincuff is faced with irrefutable evidence of an ethics violation in a board member's own hand — McTiernan's e-mail, signed in his official capacity as Township scoccer Commissioner.
Having been busted himself, and having failed to come up with proof against Freda and Sullivan, will Dincuff call for McTiernan's resignation, and will Dincuff file ethics charges against McTiernan?
Of course not. Dincuff hasn't got the balls or the integrity to enforce the law against his own cronies.
: :