At the March 29, 2012 Clinton Township school board meeting, board president Jim Dincuff accused two board members of violating New Jersey state ethics rules. According to the Hunterdon County Prosecutor, Dincuff then violated the Open Public Meetings Act, N.J.S.A. 10:4-13(a) and N.J.S.A. 10:4-13(b), and took the entire board into an illegal executive session to continue his browbeating of "two specific board members" with his accusations.
Dincuff later disclosed that he was accusing Marc Freda and Michelle Sullivan.
Dincuff has no evidence — because Freda and Sullivan did nothing wrong
In subsequent, well-documented board meetings, Dincuff responded to Freda's and Sulivan's demand that he put up or shut up. They demanded to know his evidence, because both denied the accusations. Dincuff folded like a wet rag:
When prompted by both Freda and Sullivan as to whether he had any plans to file formal complaints against them, the board president said, "I think in order to file an official complaint, one needs to have irrefutable evidence" that confidentiality was breached. "At this point I don't think I see that."
— Hunterdon Review, April 24, 2012
Found guilty of violating New Jersey law himself, Dincuff explains the fine points of "IRREFUTABLE evidence"
At an August 14 "goals setting meeting," conducted in violation of N.J.S.A. 10:4-12 because Dincuff failed to include a statutorily-required public comment section, Freda explained why he and Sullivan had twice asked the board to make a resolution retracting Dincuff's accusations — since Dincuff, as board president, speaks for the entire board. And since Dincuff has no evidence to file charges.
Dincuff interrupts Freda — and says (this is not a typo): "I never said there's no evidence. I said there's no irrefutable evidence!"
Duh.
Well, that explains it.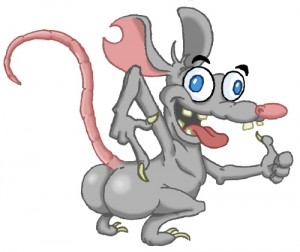 That explains why Dincuff and the rest of the board have refused to apologize to Freda and Sullivan — while they deliberate their "Core Values."
Do they need to be knocked in the head with a dummy stick to understand that what Dincuff really means is he doesn't have a dead rat's ass worth of evidence? And that's why he hasn't "filed a complaint" while he has dragged the entire board into a dark, dark place? [Sorry, due to editorial policy we could use only a live rat. No animals were hurt during the production of this blog posting. -Ed.]
But Dincuff makes it crystal clear who he was accusing — and he wants an apology from them for whatever it is there's no irrefutable evidence for:

That's the president of your school board talking — who then revealed what's really troubling him:
Board members are talking to their constituents without notifying Dincuff and without getting his advance permission:
Freda made it very clear to Dincuff at the August 14 meeting that "I have expressed no confidential information outside of executive session." Never mind that the executive session in question was conducted by Dincuff illegally — and is thus not protected to begin with.
[Disclosure: The editor of this blog has had communications during 2012 with board members Kevin Maloy, Rachel McLaughlin, Kevin Sturges, Michelle Sullivan, Marc Freda, Jim Dincuff, Michelle Cresti, Maria Grant, and Daniel McTiernan.]
Following the exchange with Dincuff, the rest of the board members — Michelle Sullivan was absent — proceeded to verbally attack Freda. Maria Grant suggested that Freda make a motion for the board to launch an investigation against himself.
But there is no irrefutable evidence
No one produced a shred of evidence to back up Dincuff.
Is the board suffering from collective insanity?
Yes. Irrefutably.

Just listen to their meetings, read their meeting minutes, and consider that after being cited by Hunterdon County Prosecutor Anthony Kearns, III for repeatedly violating the New Jersey Open Public Meetings Act, they continue to break the law as if… the majority of them are looney tunes?
: :