On the heels of one affordable housing controversy after another, a partner of one of Clinton Township's seven affordable housing projects has been indicted by a Hunterdon County Grand Jury.
Suspended, disbarred, indicted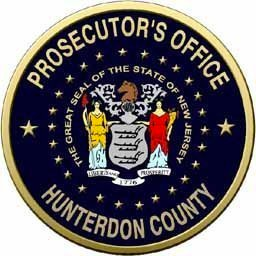 According to reports in the Hunterdon Review and TAPInto Flemington/Raritan, Annandale attorney Walter N. Wilson, 63, was indicted by the Grand Jury on June 28, 2018 and "charged with two counts of third-degree misapplication of entrusted property."
NJ.com reported that in January 2015 Wilson's  license to practice law was suspended "after he failed to supply the New Jersey Office of Attorney Ethics with requested information on clients and attorney trust accounts." Wilson was representing Hunterdon Humane Animal Shelter at the time he was suspended.
Wilson was disbarred by the State Supreme Court in November 2016.
Clinton Township affordable housing partner
Walter Wilson is a partner in Kerwin-Savage, a New Jersey General Partnership based in Bernardsville, New Jersey. The partnership's Alton Place Development has been designated by the township as one of seven housing sites to fulfill its obligation to construct 373 new affordable housing units.
A general partner of the concern, Michael Savage, confirmed Wilson's involvement to the township in a February 1, 2017 letter. The date on the letter is February 1, 2017, but the signature is dated January 30, 2017 — the same day the partnership apparently met with Mayor John Higgins to discuss its Alton Place development.
108 Alton Place is slated for 28 affordable units. Inclusion in Clinton Township's plan gets the developer a bonus — high-density rezoning of the property for 10 units per acre so it can build an additional 110 market-priced housing units. Such high density would never have been possible for the site without inclusion in the township's affordable housing plan, and is considered a windfall for a lucky landowner or developer.
Testified about Clinton Township affordable housing plan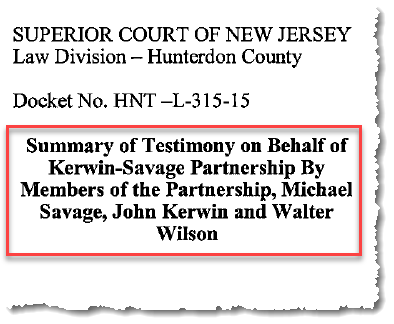 According to a press release issued by Hunterdon County Prosecutor Anthony P. Kearns, Wilson was indicted for allegedly issuing two checks totaling $34,168 "for his own use" from a trust fund, "which he knew was unlawful."
After being suspended and disbarred but before his indictment, Wilson testified in New Jersey Superior Court in a January 29, 2018 court filing about details of his Alton Place affordable housing site's inclusion in Clinton Townhship's affordable housing plan.
A controversial housing plan
The plan is defined in a February 5, 2018 settlement agreement between Clinton Township and Fair Share Housing Center (FSHC). The agreement caused controversy because Mayor John Higgins and the council did not discuss or disclose it publicly prior to approving and signing it on December 13, 2017. (See Affordable Housing Deal Signed Without Public Input and Mayor Higgins' 51-second, 805 housing-unit massacre.)
Additional concerns were raised when it was disclosed the township paid a $30,000 "donation" to the FSHC to complete the negotiations, and that the township agreed to sue neighboring Readington Township to confiscate that municipality's sewer capacity for Clinton Township's use "if needed."
Even after the massive housing deal was approved by the mayor and council, they conducted no public hearings about it in council chambers. Instead, Mayor Higgins told concerned residents they had to go to court in Somerville, NJ if they wanted to make comments or objections — but only after filing their comments and objections in writing to the court.

The court approved the settlement deal on March 23, 2018.
A year earlier
According to township e-mails obtained under the New Jersey Open Public Records Act (OPRA), a year earlier, on January 18, 2017, Kerwin called Mayor Higgins to request a meeting "to discuss [Kerwin's] interest in developing Alton Place." Higgins e-mailed Kerwin agreeing to the meeting as long as attorneys from both sides were present.
Two days later, in a January 20, 2017 e-mail to Higgins, Kerwin wrote:
"I would rather not bring our attorney to the meeting for several reasons. One, I do not require his advice, two, I dont [sic] want our discussion restrained by the attorneys. I will agree to sign off on a disclaimer provide [sic] by [Clinton Township attorney] Mr. [Jonathan] Drill if that is the issue."
[Emphasis added]
After Higgins replied again that he would meet only if attorneys were present, Kerwin agreed and the meeting was scheduled (and presumably convened with attorneys) for January 30, 2017 at 6:00 pm. It was on the date of the meeting that the Kerwin-Savage partnership signed the disclosure that Wilson was a partner.
In between disbarment and indictment
In between Wilson's disbarment and indictment:
Mayor John Higgins met with Kerwin-Savage to discuss inclusion of the partnership's Alton Place site in Clinton Township's affordable housing plan, knowing Wilson was a partner.
Higgins and township attorney Jonathan Drill presumably negotiated with Wilson's partnership.
Higgins and the council approved the plan and settlement including Alton Place.
Wilson and his partners testified to the court about Clinton Township's affordable housing plan and settlement with FSHC.
The court approved the deal.
Timeline
January 2015
Wilson's  license to practice law was suspended.
November 2016
Wilson disbarred.
January 18-20, 2017
Kerwin-Savage requests meeting with Mayor Higgins to discuss Alton Place affordable housing site without attorneys.
January 30, 2017
December 13, 2017
Clinton Township council approves affordable housing settlement deal with FSHC which includes Alton Place property — without public deliberation or disclosure of what was in the deal prior to voting on it.
January 29, 2018
Kerwin-Savage submits testimony — including partner Walter Wilson's — to Superior Court about Clinton Township's affordable housing plan and settlement.
March 23, 2018
Court approves affordable housing settlement deal, including Alton Place.
June 28, 2018
Wilson indicted.
More Lawyer Problems: Conflicts of interest
This is not Clinton Township's first controversy about lawyers in the matter of its affordable housing planning.
Before the court could conduct a scheduled February 12, 2018 Fairness Hearing to approve the township's original affordable housing settlement agreement, officials suddenly withdrew the agreement and the hearing was cancelled. (See Township's Housing Plan Crashes.)
The withdrawal came quickly on the heels of an objection that was filed with the court that enumerated multiple conflicts of interest of the township's lawyers and the special master appointed by the court to advise on the matter. That objection asked the court to:
…remove township planning board attorney Jonathan Drill and municipal attorney Trishka Waterbury Cecil from the process and proceedings because the attorneys and their firms have a conflict of interest in that they also represent Readington Township, which the settlement agreement they negotiated with Fair Share Housing Center threatens to sue "if needed."

(See Objection: Why the Court should reject the affordable housing settlement.)
By withdrawing and modifying the settlement, the township avoided having to publicly explain and confront the conflicts. The modification was to remove one of the township's key affordable housing sites, the notorious Windy Acres. (See Windy Acres: The fatal fraud in Clinton Township's affordable housing scheme.)
: :