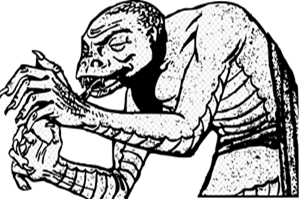 In Hunterdon County's Union Township a citizens' group forced a warehouse developer to back off in the face of massive public opposition — for now.
Warehouse developers and associated big landowners are swarming Hunterdon and Warren Counties, launching plans to unleash Warehouse Monsters west across New Jersey.
But local citizens' groups are already winning battles against these carpetbaggers and against local elected officials that seem to be advancing the developers' agendas against their own towns' interests.
Groups in Clinton Township and Union Township in Hunterdon County, and others in Warren County, are already working together to coordinate defending their towns from the Warehouse Monsters.
A win in Union Township — for now
The Union Township group, UnionCan, just notched a win (see Hunterdon residents win battle over massive Route 78 warehouse development – for now). It seems Union Township Mayor David DeGiralamo was just telling UnionCan organizers that the warehouse can't be stopped — and now he's suddenly celebrating because UnionCan stepped in to thwart the warehouse while the mayor sat back waiting for the project to be approved.
Why do towns need mayors when residents have to do all the fighting to save their towns?
As citizen opposition in Union Township quickly exploded, SGS Perryville Development, the applicant for 700,000 square feet worth of warehouses in two buildings off Route 78, withdrew its application from the planning board. UnionCan did an exemplary job of it. Kudos to them.
However, we all know this isn't the end of it. The developers will be back to push their warehouses. They have already revealed they're not going away. They've already been back. And, shockingly, mayors are either failing to block them or tacitly facilitating these warehouse plans.

A win in Clinton Township — for now
In October 2022 outraged residents of Clinton Township beat back Mayor Brian Mullay's attempt to give Exxon a public forum to explain why the township should alter its no-warehouse zoning. The goal: to allow Exxon to build a 4 million square foot facility that would be the third largest in North America.
Faced with angry citizens waving zoning ordinances that forbid warehouses on the Exxon property, the mayor quickly surrendered and congratulated himself for "stopping" the plans.
Was that a win against warehouses?
How many times will Exxon's Warehouse Monster return?
Just a year later, Mayor Mullay brought Exxon back for another bite at the forbidden apple. To the apparent surprise of the council, he sponsored a massive September 27, 2023 council meeting at a school auditorium where he let Exxon do what it tried to do last year: treat residents to a "listening session" that attendees immediately criticized as a one-sided pitch for… warehouses.

Humiliated by their erstwhile sponsor the mayor, Exxon left the meeting with nothing. A win for the protesters. For now.
When will Mullay and his silent advisors get it?
It's not over
After residents at that meeting roundly rejected Exxon's warehouse a second time, there is little doubt Mullay will bring Exxon back for a third try.
Likewise, Mayor DeGiralamo will find himself called upon to give the Union Township developer another crack at their warehouse project. It's what weak elected officials do.

There's just too much money on the line for the developers to stop.
Citizen groups organize: What you can do
In the meantime, it's clear the citizens' groups of more towns are banding together, preparing for the next wave of Warehouse Monsters.
Citizens need to recognize that there's a lot of money on the line. The warehouses will be back. Citizens whose towns have zoning that prohibits warehouses need to step up:
Attend all your town's council or committee meetings (switch off with friends, but be there).
Ask each member of the governing body what their position is on warehouses and make them say it on the record. Ask at every meeting.
Ask whether any town official is in discussions with developers or landowners about  warehouses. Ask at every meeting. In town after town, savvy developers keep up the full-court press on weak officials, even when your officials tell you, "Oh, don't worry, this plan is dead in the water…"
Demand transparency. Insist your town officials disclose matters of concern to the public — and hold them to it.
Form a study group: read and understand your town's master plan and zoning ordinances. Some of your neighbors are probably knowledgeable. Tutor one another.
Monitor meeting agendas and review minutes of your council, planning board and zoning board meetings. These documents are available on your town's website.
Keep talking to your neighbors. Don't become complacent. That's when development plans are slipped into the process — and it may be hard to stop them at that point.
Get to know the groups fighting warehouses in other nearby towns. Work together — this is now a regional threat. If one town permits a warehouse, all towns are next.
Start now: Take over your town government
Some of the best elected officials go bad. They start to hob-nob with special interests. They get lazy. They get sloppy. Power goes to their heads. You'll see this when you realize they're not telling you everything and when they pop surprises. Far too many politicians run unopposed and are thus shoe-ins for re-election every year. This is the single biggest threat to local democracy and local government.
Citizens' groups are enjoying some wins. For now. For real change, they need to take over their town governments.
Find out who's up for re-election in 2024.
The best way to stop warehouses, ultra-high density housing developments and other undesirable projects is to elect mayors and councils that will serve you, not special interests. The only way to get the representation you want is to run good candidates to change your local government.
And the best way to run good candidates is to start planning campaigns for the November 2024 elections now. Because the Warehouse Monsters are just getting started, no matter what anyone tells you.
: :