At its June 23 meeting the Clinton Township Council spent considerable time demonstrating they can talk at length about a subject they know absolutely nothing about — just because someone made a request.
The mayor and council discussed an "initiative" to install public electric vehicle (EV) chargers — and debated which public open space site is the best place for them. They hope to get some grant money to pay for the project. No factual or research information was presented or discussed.
Do ya think anybody on the Clinton Township council owns an EV? Or bothers to do any research before bringing up kooky ideas at council meetings?
Who requested an EV charger at Windy Acres?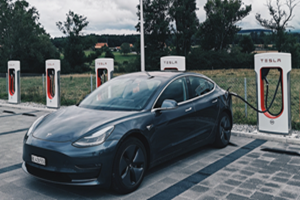 Councilman Mark Strauss, liaison to the Environmental Commission, said he's received "a specific request for [an electric car charging station] for Windy Acres."
The Hunterdon Review reported that Strauss "passed along some research about the possibility of an ordinance or amendment to accommodate electric car charging stations at some selected open space locations in the township."
It's not clear whether the councilman studied the research himself. It's quite clear that Councilwoman Amy Switlyk did not. Nonetheless, reported the Review, she "agreed that an electric car charge station is a great idea for the Environmental Commission, but the she doesn't think Windy Acres has the traffic."
Green chargers on Windy Acres because it's "green?"
Taxpayers pay to toss the Frisbee
Councilwoman Switlyk also thinks it's "a great idea" that the township should fund, build and maintain a Frisbee Golf Course that would be open and free for use of non-residents as well as residents.
One need only remember the township's skate park, which was dismantled and its parts sold for pennies on the dollar over a decade ago after it was over-run by unruly non-residents.
The Frisbee Golf Course project is already underway, off Regional Road. Green Acres requires that the course be open to non-residents.
This is what happens when policy making is a free-for-all of "great ideas" before anyone has studied anything.
Let's see — EVs are "green" so this must be a "great idea" for the Environmental Commission since much of our preserved land was acquired with "Green" Acres funds from the N.J. Department of "Environmental" Protection. So let's let the environmental volunteers handle the mechanics and economics of fueling up EVs!
But, Switlyk said, "Bundt Park would be better" because it  gets more traffic.
Mayor Brian Mullay likes the "green" connection, too. He said that "the State is really pushing for electric car charging and could be amenable to stations at Green Acres locations."
Then the motivation for this became clear: There might be grant money available! Maybe they could use some of the Open Space trust fund money they set aside for "maintenance" of open space to install those chargers on our preserved lands.
Logical, intelligent, fruitful  discussion about policy making is not possible without preparation — not if you're going to do it in public. Council meetings quickly deteriorate into a free-for-all when a town doesn't have a full-time Administrator who oversees what's on the agenda. Without someone responsible for a reality check, council meetings turn into a meandering talk show — and taxpayer dollars pay for it.
Clueless in Clinton Township
The council is clearly clueless about EVs, charging and EV user behavior. Strauss, Switlyk and Mullay could have asked a local EV user or two for a quick lesson. The council could  also do its own research before its meetings on Google. It's free. And it would make for more productive council sessions.
It doesn't take long to learn that a charging station at an open space preserve or a playground makes no sense.
The Pew Trusts reports that "electric vehicles used for short commutes can be plugged in at home daily; the worry stems from longer trips."
In "Electric Vehicle Charging 101," the NRDC (National Resources Defense Council) reports that "according to the US Department of Energy, over 80 percent of EV charging happens at home, where EV owners have set up their own chargers."
It's telling that the most recent installation of EV chargers in Hunterdon County is at the Flemington Wawa, at the nexus of 3 highways, and an easy stop for travelers passing through. You still can't get a cup of coffee at Bundt Park.
Windy Acres: Hike while you charge!
A quick survey of Google reveals that local EV owners aren't going to drive over to Windy Acres or Bundt Park to charge their cars. They don't need to because they charge at home.
A single charge can power an EV for up to 350 miles, and the average U.S. car owner (any kind of car) drives only 31 miles per day. Even low-capacity EVs can get by locally without ever charging anywhere but at home.
Would anyone use a charger at a "Green Acres location?" The NRDC did some serious test driving to study EV charging, and reports that "being dependent on public charging… is the exception — not the norm."
EV owners need chargers mainly when they're traveling out of town, when they need a charge to continue or complete their trip. This means the most likely user of any local  charging station is a non-resident who's passing through.
A full charge at a Bundt Park station for a Chevy Bolt, which has a range of about 220 miles, would take about 40 hours on a Level 1 charger. A Level 2 charger would add about 25 miles to a Tesla Model 3's battery in an hour.
How much hiking at Windy Acres would a non-resident Tesla driver want to do while waiting to charge? Maybe they'd like to shoot a few hoops at Bundt — for a few hours — while their EV charges.
Level 3 chargers are much more powerful and much more expensive. Usage at even Bundt Park, which, according to Switlyk, "has the traffic," would never deliver the necessary ROI. As the EV industry pushes the limit with massive investments in ever-faster charging, slow chargers become less attractive to EV users.
EV Charging 101
Charging time is no small matter in the EV business. That's why most Level 2 and 3 chargers are located in shopping center parking lots where there's access to a Panera, Wawa, Starbucks or other fast-food establishment. You can get a full charge in about the time it takes to have lunch, or a quick boost on the highway while you have a cup of coffee.
Any Clinton Township EV owner could explain that they charge at home unless they're on a long trip. A public EV charger would most likely be used by non-residents who are passing through — and the best place for such a charger is at a commercial establishment. The benefit of low-speed public chargers seems to be purely political: "Look, we're green! We're hip!"
Just because EVs are green doesn't make EV chargers a project for the Environmental Commission. Just because our preserved lands are funded by Green Acres doesn't mean they're the right place for chargers.
It seems this entire misguided display of government in action may have been driven by nothing more than someone reading that there's grant money for "green" projects.
Public funds — grants or otherwise — should not be spent on chargers on our preserved lands. It's not "a great idea." A great idea would be for our mayor and council to do some homework and demonstrate that they know what they're talking about — before they embarrass themselves in a public meeting.
But that's a long-shot for a council that makes policy based on what a select few want, without consulting the community as a whole.
: :
[edited 7/8/21]