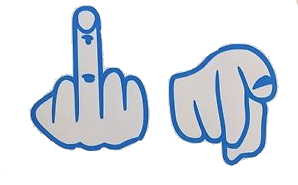 On election night, November 6, 2018, Clinton Township school board president Maria Grant's worst nightmare came true: She lost control of her board.
Four newly elected members plus last year's election of a staunch board critic  created a new majority that seems prepared to wrest control of the school board away from the divisive Grant. Every January, the board members elect from their ranks a president.
Clearly aware she's about to lose her leadership role to a new majority elected in a stunning repudiation by voters, Grant is scurrying to retain administrative control by hand-picking Clinton Township's new superintendent in a move that has angered parents, residents and teachers — before she is ousted as president.
Grant will hire new Super "in the back room"
On Monday evening, November 19, Grant and her loyal majority will give a big F-YOU to voters by hiring the school district's fourth superintendent in less than two-and-a-half years — just a month before the new majority takes over.
Grant issued a notice on Saturday, November 17 — just two days before the board will make the hire. The notice went out by e-mail only to parents with children in the district and was posted on the school website.
The rest of the community has received no notice.
They will do it "in the back room" away from public view during an "executive session" prior to the public school board meeting.
The new board of education — and voters who have rejected Grant's "Supreme Soviet" style of autocratic control — will be stuck with whomever Grant anoints Superintendent.
The public will have no chance to even comment on the hire until after the hire is made.

Grant's board fractured in 2017
In 2017, Lana Brennan was elected to the school board. A fair-minded but outspoken critic of the board, Brennan was the first thorn in Grant's side. When Grant orchestrated the highly controversial, overnight reorganization of the schools without adequate public input, Brennan cast the only dissenting vote.
According to MyCentralJersey, Brennan explained that she didn't "feel comfortable on voting tonight" because "people need more time to digest" the plan recommended by Superintendent of Schools Pamela Fiander.
A new board: Brennan + 4
Campaigning to end Grant's war against teachers and the public, four newbie, highly credentialed candidates ran as a team and were elected November 6, 2018 by enormous margins, signaling voters' dissatisfaction with the school board status quo.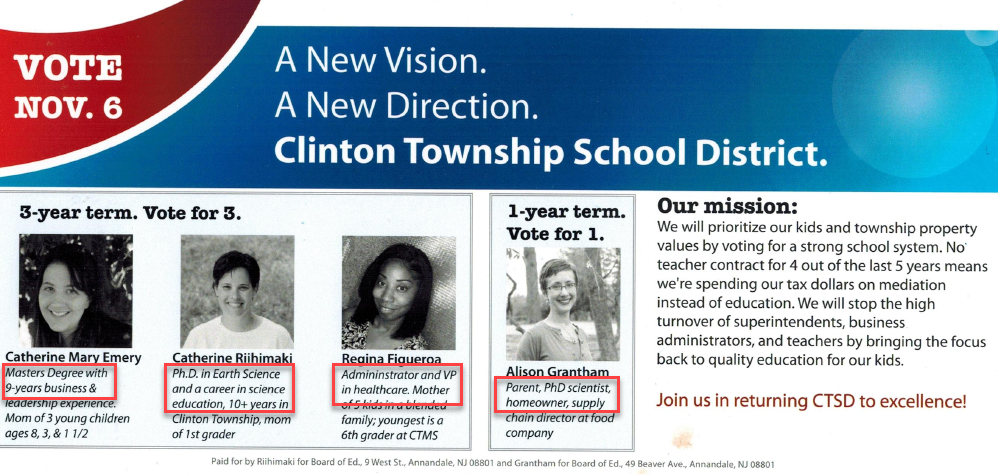 Catherine Riithimaki, Catherine Emery, Regina Figueroa and Alison Grantham focused their campaign on ending the high turnover of superintendents, business administrators and teachers. The foursome also criticized the existing school board for failing to give teachers a contract for four of the last five years.
Along with Brennan — who is not politically connected to the other four — a new majority has been formed in that all five have expressed objections to how Grant controls the school district.
Grant's superintendents
4 Superintendents under Maria Grant in 29 months
Superintendent Drucilla Clark
Resigned June 2016
Superintendent Gina Villani
July 2016 – July 2017
Superintendent Pamela Fiander
August 2017 – July 2018
Superintendent #4 — TOP SECRET
To be hired November 19, 2018

Maria Grant's record of hiring superintendents has become the dirty little management secret of the Clinton Township schools.
Grant inherited Drucilla Clark, who resigned in June 2016 amidst speculation that she was unhappy with Grant's overbearing style of management.
In quick succession, Grant conducted back-room selection processes and hired Superintendent Gilla Villani, who lasted just a year between July 2016 and July 2017.
Then Grant orchestrated the hire of Pamela Fiander, who served just 11 months from August 2017 through last summer.
Fiander replaced Superintendent Drucilla Clark, who was hired in 2012 following a search conducted by Pamela Fiander's husband, Richard Fiander. According to the Hunterdon County Democrat, the latter was hired for $6,500 while Grant served on the board to recruit candidates for superintendent.
Including the superintendent to be hired November 19, that's four superintendents during Grant's board presidency in less than two-and-a-half years.
Grant scurries to hire a loyal administrator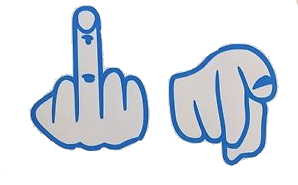 The November 6 school board election was widely regarded as a referendum on board president Maria Grant — and Grant lost.
The new majority that will control the board in January was elected on promises to repudiate the school board's poor treatment of teachers; its disregard and disrespect of the public; and its domination by a divisive board president.
On Monday night in the Clinton Township Middle School auditorium, Maria Grant will deliver a big F-YOU to the voters who elected a new majority to put a stop to Grant's divisive mismanagement.
In a classic back-room move with just two days' notice to only selected members of the public, Grant will hire a Superintendent who — in 2019 — will be beholden to a minority of the board and what will undoubtedly be the former board president who engineered the hire.
Who's running the joint in 2019?
Clinton Township taxpayers, parents and teachers will be left wondering who is running their $30 million school district:
The new school board and new leadership they elected to "bring the focus back to quality education for our kids"?
Or a shadow school board controlled by Maria Grant and a hand-picked new superintendent that's going to continue abusing teachers, disrespecting the public, and operating in the "back room?"
Who will show up at the Monday, November 5 school board meeting to demand answers?
: :