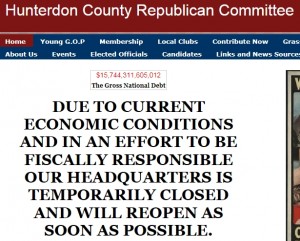 The Hunterdon County Republican Committee has been out of business a long time. But influence is on sale — for private political gain — and Hunterdon County Republicans have once again been manipulated by a handful of party bosses who like to keep things this way.
According to disclosures at last night's HCRC meeting, the HCRC is not only broke, it's in debt to the tune of $26,000. According to the HCRC's own website, its offices have been closed for over a year.
Say what?
Hunterdon County is the 4th wealthiest county in the United States, and although the majority of residents are unaffiliated to any party, Republicans in Hunterdon are loaded. So how can the Republican organization in the 4th wealthiest county in the U.S. be broke?
It's easy: The party has lacked leadership for decades. HCRC chairman Henry Kuhl hasn't been able to raise a dime. The Republican party is worse than broke. The party has no bench strength — the same old players have been running it  for years. Candidates are not developed. The committee holds no meetings to discuss or debate issues — and when Kuhl throws a party, nobody goes.
The HCRC is closed and long defunct
The HCRC can't afford any staff, much less to keep the doors open.
The HCRC hasn't conducted a voter registration event since anyone can remember.
The HCRC hasn't a clue which Republicans in Hunterdon County regularly donate big bucks to national campaigns — nor does the HCRC approach them for help.
While the Hunterdon Democrats had a booth at the county fair, the HCRC was nowhere to be seen.
Republican candidates in Hunterdon campaign and get elected entirely on their own. If it won't pay off personally for Henry Kuhl, it's not worth the chairman's attention.
Who owns the HCRC?
How does Kuhl keep getting re-elected? It's easy, when you own the HCRC.
According to financial disclosures, the committee is in debt to Kuhl and his family for $42,000. According to ELEC filings, the HCRC has only $15,500 in its account. Henry Kuhl holds the paper on the Republican committee.
No wonder he doesn't worry about raising funds. Is it any wonder he runs the HCRC like it's his private club? It is.
Kuhl gets re-elected
Last night, the HCRC re-elected Henry Kuhl as its chair after he was nominated by Tom Borkowski. No surprise — the majority of members do just one thing on the HCRC: they show up to vote for Henry every two years.
But what got Kuhl re-elected was a big push from big Republicans. Earlier in the week, Kuhl sent an e-mail out to the membership, signed by leaders of the Republican party. These elected officials all endorsed Kuhl for re-election, citing several reasons:
"Kuhl's character and integrity"
For years, Kuhl gave the "party slogan" for use on the ballot to candidates he hand-picked. Henry Kuhl privately owned the party slogan — it was not owned by the HCRC or granted by the HCRC — and Kuhl decided entirely on his own whom to give it to. No surprise: Candidates got it only if they agreed to back Kuhl as chair in the next committee election.
In 2007, HCRC members issued a press release about Kuhl's unethical practices — Kuhl ignored pleas for changes — and in 2010 ExMayor.com revealed how Kuhl and his cronies hijacked municipal elections. None of the Republicans who endorsed Kuhl this week lifted a finger.
"Kuhl's steady leadership"
The HCRC is closed and broke, but Henry Kuhl sacrificed Hunterdon's legislative seats in exchange for support to keep his chairmanship — from  Warren County-based state senator Mike Doherty and the Somerset Republican leadership. Somerset and Warren County Republicans love Henry Kuhl's leadership. He's turned the political power of one of the wealthiest counties in the U.S. over to out-of-town political bosses right under the noses of Hunterdon Republicans.
"The HCRC is one of THE BEST peforming Republican counties in the State"
Republicans get elected in Hunterdon County because of the county's demographics — we've already seen that Kuhl does nothing because the HCRC virtually doesn't exist.
Political blather
The rest of the endorsement letter goes on to give credit to Kuhl for smaller government, lower taxes, and a bright future.
Who supported Kuhl?
Henry Kuhl won the election for chair by a vote of 99-87. Most HCRC members show up for one meeting every two years — to vote for chair. In the interim, Kuhl makes sure those members who support him get the party slogan and preferential ballot treatment in every way possible. This year, the vote was close, but Kuhl squeaked out because the leading Republican officeholders of Hunterdon County stepped up to endorse Kuhl with the above laudatory — but phony — words:

What's the deal?
Four years ago Kuhl promised that in exchange for re-election one last time, he would not run again — he would cultivate and endorse a replacement.
Two years later, Kuhl blocked competition and broke his word — he stood for re-election unopposed and once again promised it would be his last term, after it was disclosed the HCRC was essentially broke. Last night, Kuhl got re-elected in a squeaker, thanks to the endorsements of the men who signed his letter to the committee.
The deal those men made has been leaked widely: In two years Kuhl will step aside and Republican operative Dick Torpey will succeed him. In the meantime, the Republican party in Hunterdon County will remain closed while Kuhl continues to direct the loyal to avoid raising money, holding meetings, talking about issues, or sticking their noses in party business.
In two years — assuming Kuhl isn't lying this time — someone who has had virtually no involvement in Hunterdon County affairs will be crowned. What nobody knows is, what did it cost Republicans?
The HCRC remains closed, but open for business — It all depends on who you know, and what they're buying.
Who needs an election?
Not Hunterdon County — this is where political business is done behind the locked doors of the "out of business" County Committee. The question is, why don't the elected officials who endorsed Henry Kuhl not care about Republicans in Hunterdon County enough to speak truth and do what's right for their Republican constituents?
When Republicans look at "the party line" on the ballot in November, they need to ask themselves, Who sold us out again?
: :