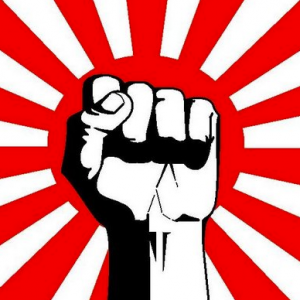 On June 15, 2019 Clinton Township School District Superintendent Michele Cone warned parents that teachers might violate the law and go on strike just before 8th grade graduation. Families' "plans for the summer" might be "interrupted." Cone also reported that negotiations with the teachers' union were going along swimmingly.
Except there was no threatened strike and negotiations were in the toilet.
Cone's missive
The iron fist of the Clinton Township Supreme Soviet… er, school board… was coming down. Cone sent a Memo to the Community that was apparently delivered only to parents of students. Other residents and taxpayers say they did not receive it.
It seems the superintendent runs her very own rumor mill. Cone has developed a tool to influence the ongoing negotiations with teachers: cheap threats and scare tactics.
8th grade graduation "disrupted"
In her memo, Cone threatened that 8th grade graduation could be "disrupted" if the teachers go on strike. Cone said the teachers' union "refused" to "give us a heads up if there's going to be a strike."

But the Clinton Township Education Association — the union — has said nothing about striking. Cone herself allows that "a strike is prohibited by State law."
Is there a State law prohibiting Cone from promoting rumors and scaring parents — and threatening teachers?
The superintendent's rumor mill
Cone says that according to "the rumor mill" there is "talk of a strike" by Clinton Township teachers — and that "we have 8th grad graduation scheduled for June 20th and we don't want to have that special event disrupted."
Cone wants parents to know that if they "have plans for the summer… we don't want those interrupted" by teachers striking before and during graduation.
Interference with negotiations through threats
Cone states explicitly that her "note" is intended as an update "on the negotiating process" between CTSD and the CTEA. She would "love to have the negotiating process resolved" because "everyone['s]… wonderful summer" depends on it.

The clear threat, of course, is that if the teachers don't cave in on the lengthy negotiations before graduation, everyone will have a lousy summer.
Threats, scare tactics, selective distribution of information, and the not-so-subtle message to parents that teachers are the problem.
Administrative Promiscuity: Michele Cone, aka #4
Since 2017, when the teachers' last contract expired (they've been working two years without a contract after working three years just before that without a contract), the CTSD has had 4 superintendents under the management of school board president Maria Grant:
Drucilla Clark
Gina Villani
Pamela Fiander
Michele Cone
4 supers in less than 2 years? Such administrative promiscuity is extreme even for the rough-and-tumble CTSD. Since June 2017, Grant has also had 4 school board business administrators:
Anthony Juskiewicz
Edward F. McManus
Richard J. Kilpatrick
Michael Falkowski (acting)
It seems Grant loves to spend money on search firms and to disrupt management of the district. Scrub 'em up and get 'em ready!
Or, perhaps, not. What better way for Grant to control both the school board and the administration of the schools than to show supers and BA's how soon they, too, could be out the door?
"It's not fair to ask more than 200 teachers to work without a contract"
The CTSD is notorious for bad faith during teacher negotiations, and it's easy to see that Cone has learned to apply the tactics her boss uses. (See Maria Grant tells 1.19% of the truth about teachers.) Clinton Township school teachers have worked without a contract for 6 of the past 8 years.
On April 9, 2019 the Hunterdon Review delivered a blistering editorial about the school board's failure to settle the teachers' contract:
"During the last round of negotiations the CTEA worked with an expired contract for three years, from 2013 to 2016. Prior to that, the teachers and staff worked under an expired contract for two years… It's not fair to ask more than 200 teachers to work without a contract"
It seems Michele Cone is trying to speed up negotiations the way she's been taught: by threatening teachers, parents and students alike.
Oops.
Three days later, after taking a scathing tongue-lashing from parents at the June 17 board meeting, Cone and the school board issued a new statement, pretending they had cleared up the question of whether there might be a strike.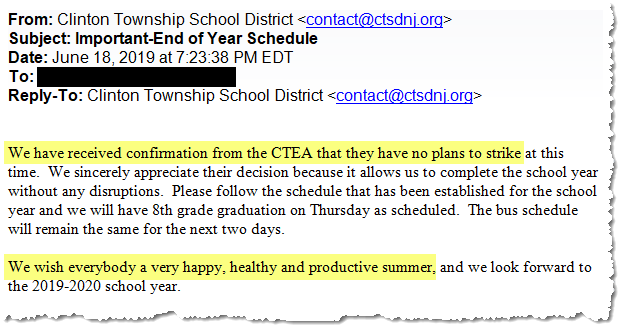 But it appears this notice was as bogus as Cone's memo.
Class was in session on June 17
At the second public comment section of the June 17 board meeting, two teachers gave a lesson to the superintendent and the school board.
The well-versed representatives of the CTEA — Mary Claire Spadone and Kelly Hill — disclosed that Superintendent Cone had lied about a possible teachers' strike, and had misrepresented that "the [negotiations] process has moved along very well over the last year…"
"This statement is completely untrue. We are at the exact same place we were last year when the board filed for impasse."

"Dr. Cone alluded that as pressure to come to an agreement continues, a strike may happen… When speaking to Dr. Cone last week… I qualified that she was confused… She was also reassured on more than one occasion that we would not take any action that would negatively affect our students or their families… To insinuate that we would disrupt a celebration such as graduation is utterly offensive — utterly!"
[All audio excerpts are from the official recording of the June 17, 2019 board meeting.]
Who will call Michele Cone to account for misleading "the community?" How does it feel to be #4?
The Iron Fist is nothing new at CTSD
How does Grant do it?
It's no mystery how board president Maria Grant controls contract negotiations. Even after 4 new board members were elected last year, Grant refuses to put any of them on negotiation committees. Kevin Maloy, Mary Beth Brooks, Alissa Olawski, and Grant herself control the contracts, with Lana Brennan supplying the 5th vote to ensure it. At the June 17 meeting a power struggle erupted and the public cheered the 4 new members — but Grant locked them out.
The key to Grant's power is Lana Brennan, who ran for school board "to make things better." When the 4 newest members threatened Grant's iron fist, according to district insiders Grant cut a deal with the naive Brennan. In exchange for Brennan's vote to keep Grant in the president position, Grant and her minority would nominate and elect Brennan vice president. Grant is in charge because Brennan is her 5th vote.
Out-of-control school board presidents who rule with iron fists, and their closely held superintendents, are nothing new in Clinton Township.
Board president Jeanine Gorman sold taxpayers a $35 million middle school at a time when student population was predicted to drop precipitously. (Want to buy an empty school building, anyone? You're paying for it anyway.) Superintendent Elizabeth Nastus was nothing short of notorious. (See Clinton Twp budget rejected: Board has no credibility.)
Board president Jim Dincuff set a standard to rival despots of any stripe when he attacked board members and citizens alike with unfounded accusations. (See Jim Dincuff: The damage continues.) He did his best to give sweetheart contracts and payouts to his favorite superintendents (Superintendent Carroll Declines Contract Renewal) and oversaw brazen violations of the New Jersey Sunshine Law.
Time and time again, Clinton Township voters put the wrong people in charge of their schools, children, teachers — and of the biggest slice of their property taxes.
Another superintendent busted
What credibility does Michele Cone have now that her attempts to mislead the public about the teachers has been exposed? It seems it's time for board president Maria Grant to strap on the rubber apron and clean house once again.
A 5th superintendent would nicely round out Grant's tenure as board president. Board members — er, Grant's #1 and #2 loyals — Kevin Maloy and Lana Brennan seem ready once again to vote with Grant to defend her role as Commandant of Clinton Township's Supreme Soviet.
Unless someone stops them.
: :