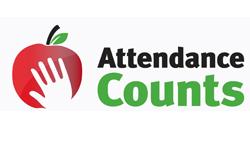 Suppose you didn't show up for work 40%-50% of the time last year. Think your boss would fire you?
Two North Hunterdon-Voorhees High School board members who did that just got re-elected.
Roger Straight: ABSENT
North Hunterdon Vorhees High School board member Roger Straight didn't have time to show up for over 40% of board meetings during 2016. Roger supposedly "represents" Clinton Township and Lebanon Borough.
Another thing Roger didn't have time to do, he told friends, was file for re-election. That meant his name would not be on last November's ballot. So Roger's friends ran a write-in campaign for him on Facebook and via e-mail.
Roger got re-elected for another two-year term with 120 write-in votes to represent more than 13,000 Clinton Township residents. And over 1,000 people in Lebanon.
Think he'll show up in 2017?
It's time to start expelling truant board members
There may be acceptable excuses for missing a meeting now and then. But when board members miss this many meetings, it doesn't matter what the reasons are. It's unacceptable to leave an elected seat empty this often.
Roger Straight missed 7 out of 17 school board meetings — over 40% — including 3 in a row in April, May and June.
Under N.J. statute, missing 3 meetings in a row permits the school board to remove a board member. (See N.J. School Boards Association FAQ, p. 7.)

But the board didn't remove Straight. They let him stay on for the ride without showing up. Worse, the board didn't notify the public, conduct a hearing, or disclose Straight's truancy.
Where's good governance?
Clinton Township has 3 other members on the board:
Sandra Seidorf missed only 1 meeting out of 17 in 2016.
Lisa Approvato had perfect attendance.
Marc Strauss missed 3 meetings.
They deserve credit — they show up. But, did it bother them that Roger wasn't showing up?
Good governance isn't just about managing the schools. It's about board members managing their board — and other members. Why didn't they stand up and warn their constituents that one of their number was playing hooky?
Why did board member Lisa Approvato campaign for Straight and urge her Facebook friends to write him in? Didn't she know Straight wasn't showing up? Why is Approvato thanking Straight "for volunteering to continue to work with our community" — when he's not?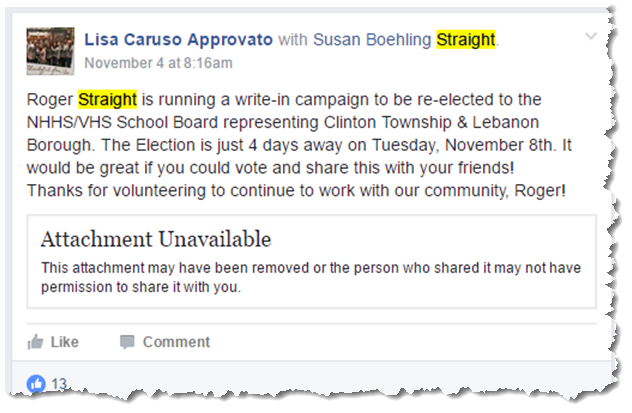 Would Approvato and the rest of the board stand up and hold truancy hearings if two board members were playing too much hooky?
Apparently not.
Megan Lehman-Wranitz: ABSENT
One other board member's record is worse than Roger's: Megan Lehman-Wranitz missed more than half the 2016 meetings — 9 of 17. Nine meetings. She "represents" the Town of Clinton, Franklin Township and Glen Gardner. When she shows up.
Voters in her towns re-elected her, too. How many know her attendance record?
While other board members showed up and did the work, Roger and Megan have failed their fiduciary responsibility for a $62 million budget. NHV students, parents, taxpayers and other hard-working board members deserve representatives who show up.
It's time for an attendance report
NHVSD does not keep or publish an attendance report for school board meetings. exMayor.com had to go through minutes of 17 board meetings to tally up attendance by hand. (Special thanks to Susan Press at the district office for providing the pertinent pages under OPRA request.)
Click the image below to check your school board representative's attendance record.
NHVSD has an obligation to its community. NHVSD must start keeping board attendance records on one clear report. The school board needs to publish it monthly on the website so the public knows who shows up.
It's time for truancy reports & expulsions
But public attendance records are not enough. Voters and taxpayers deserve to know who the truant school board members are — well in advance of school elections.
When any board member misses the statutory 3 meetings in a row, the board has an obligation to take the matter up in a public meeting and decide whether to terminate a member who does not show up.
7 absences? 9 absences? What does it take?
The board owes voters transparency — and information they need to help them decide whether to re-elect a board member. The board must take seriously its own obligation to expel members who aren't doing the job.
You're the voter — you're the taxpayer
The full 2016 attendance report is not available from NHVSD. And there's no 2017 attendance report.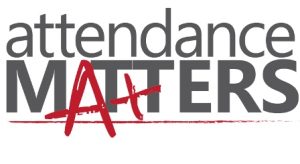 If you pay taxes in the Town of Clinton, Franklin Township, Glen Gardner, Clinton Township or Lebanon Borough, did you know your representatives weren't showing up last year?
Do you know they just got re-elected for new 2-year terms?
It's 2017. How will you know whether your town's high school board members are showing up to represent you?
Get the facts
If you want…
An attendance report for your school board representatives
Public notice when a board member has missed the statutory 3 meetings
A public hearing to consider expelling truant board members
… then express yourself. Contact Superintendent Jeffrey Bender at (908) 735-2846 ext. 5101 or jbender@nhvweb.net.
Your schools won't run themselves. And board members who show up deserve better than other board members who don't bother.
: :