Clinton Township school board president Jim Dincuff has accused two school board members and the editor of this blog of inappropriately contacting the New Jersey Department of Education (DOE) and inappropriately communicating with one another.
There is no law or ethics rule that prohibits citizens or school board members from contacting the DOE, or prohibiting board members from talking to or working with their constituents on issues. In fact, there is an ethics rule that says:
"No elected member shall be prohibited from making an inquiry for information on behalf of a constituent…" (see below.)
Intimidation and harrassment
At the April 23, 2012 school board meeting, Dincuff cited an e-mail sent by the editor of this blog to the NJ Department of Education. This is the complete e-mail, along with e-mails from Patricia Scott, an official of the Department of Education: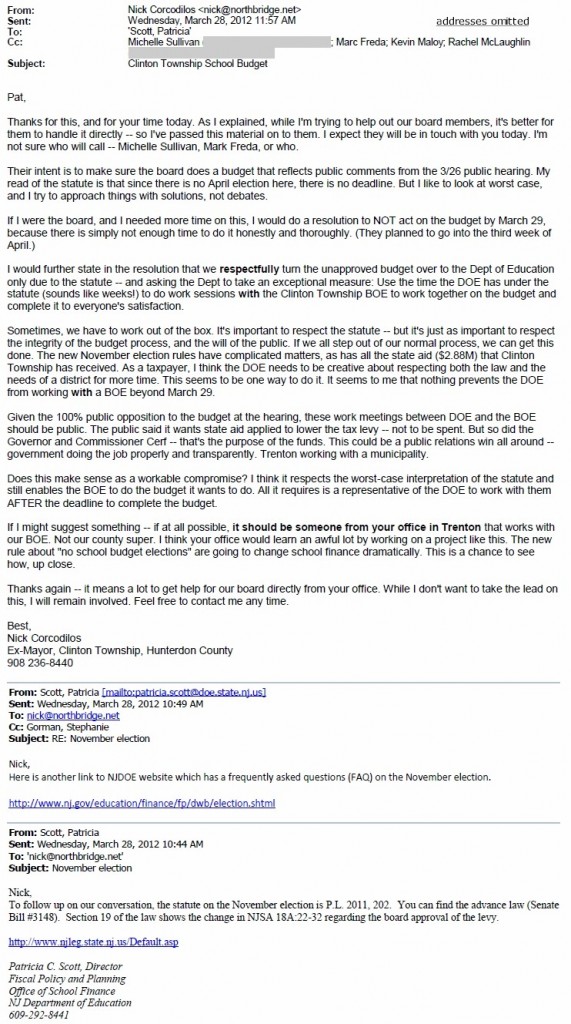 Misrepresentations to cover up a breakdown in management
Dincuff claimed the e-mail required a resolution notifying the DOE that the editor of this blog "does not represent the Clinton Township Board of Education or any of its members or any administrators in any capacity whatsoever."
However, what the e-mail describes is the total breakdown of Dincuff's administration — none of them knew when their budget was due, and they failed to take public input about cutting taxes into account. As a citizen and taxpayer, the editor was seeking guidance from the DOE because Dincuff mismanaged the budget process ignorantly. Apparently, two board members were seeking the same thing.
In a public statement he made at the March 29, 2012 school board meeting, Dincuff misrepresented statements made by the editor of this blog in the above e-mail. Said Dincuff:
"I am in possession of an email exchange between the unelected member of the community and the Department of Education in which he represents himself as contacting them on behalf of board members and states that one of two specific board members by name will be calling the Department of Education."
However, the e-mail above says nothing about contacting the Department of Education "on behalf of" anyone — nor did the editor claim any official role during discussions with DOE. (In fact, I specifically stated to the DOE that I am not an elected official, not on the board of education, and that I was calling as a citizen.) Dincuff's claims are a total fabrication. More here: Former mayor responds to Clinton Township school board resolution that singles him out by name.
Threats and retaliation for "No"
In the same statement, Dincuff threatened board members:
"I do not know what the intentions of these two board members are. However, I have been in contact with our board attorney and he advised me to make this statement in public.

"He has also advised me that I am on behalf of the board within my rights to ask these members for their resignations."
Dincuff's speech repeatedly intimidated and harrassed board members because they were in contact with a constituent and because they contacted the DOE. More important, Dincuff's threats were made against the only two board members who expressed their disapproval of Dincuff's budget — and who then voted "No" on that budget. Dincuff goes on to claim that the board members should not have contacted the Department of Education without his knowledge, and claimed that:
"…they may have also gone so far as to attempt to act independently of the board in collusion with an unelected member of the community by contacting the state Department of Education to request assistance in completing out local budget."
Dincuff's real agenda
There is no obligation on the part of board members to obtain the permission of the board president — or anyone else — when they want to talk to the DOE or to constituents. Elected officials talking or working with constituents is what democracy is all about.
However, it appears Dincuff has violated the New Jersey School Ethics Act, which protects the right of board members to make inquiries on behalf of their constituents. The law says:
18A:12-24
i. No elected member shall be prohibited from making an inquiry for information on behalf of a constituent, if no fee, reward or other thing of value is promised to, given to or accepted by the member or a member of his immediate family, whether directly or indirectly, in return therefor;
The reason this editor contacted the NJ DOE and board members was because board president Dincuff, board administrator Anthony Del Sordi, superintendent Kevin Carroll, finance committee chairman Mark Kaplan, and county superintendent Jeff Scott made it clear in March that they did not know what the deadline was for submission of the school district's budget to the state. Their failures of expertise and leadership thus put the school district and taxpayers in jeopardy. Dincuff led the board to delay submission of its budget until mid-April because he didn't know any better — he had not done his homework, nor had his administration team.
The DOE informed Dincuff that the budget was due at the end of March.
It's clear that Dincuff's real agenda is to stop board members from talking to the state DOE; to stop board members from talking to or working with their constituents; and to stop the public from scrutinizing the questionable finances of the school district. As a former school principal, Dincuff has handed out detention to those who offend him.
Do state officials know whom they're talking to?
The editor of this blog now has the distinction of being held out to the New Jersey Department of Education as a citizen who does not represent or speak for the Clinton Township board of education. As if the NJ DOE doesn't know whom it is talking to.
: :