It's Windygate all over again.
In 2010, Clinton Township councilmen Jim Imbriaco, Peter Marra and Spencer Peck filed a fraudulent affordable housing plan with COAH (Council On Affordable Housing). Mayor Cimei voted against it, but lacked a majority. Call it Windygate. Now they want to file another just like it.
Why is the plan fraudulent?
The 2010 plan includes a construction schedule that promised completion of 124 units on Windy Acres by end of 2013.
Not one unit of the obligation has been built, nor has the state-of-the-art sewer plant been built that's required to support any units.
Why is the plan fraudulent?
The Imbriaco-Marra COAH plan promises to deliver another 26 units by 2015. There's not a snowball's chance in hell. The plan was phony from the start. Why have they left it in place? How did they pull this off for so many years, while Mayor Cimei objected?
Between 2010-2014, Imbriaco and Marra controlled the majority of the council — along with Spencer Peck, and later Harmen Vos — and ensured it was a do-nothing governing body. They ensured not one COAH unit was built.
In 2014, a new majority took over the council. They immediately started work to produce a new COAH plan — a real plan — that would require a new site for the housing. Imbriaco and Marra played along for months — then voted the new plan down and left the other three council members holding the bag.
Imagine The Mews X 9
The plan Marra, Imbriaco and Peck (and then Vos) kept on file in Trenton continues to expose the Township to enormous risks. Any developer could point to the failure to deliver the units, and sue for the right to build them. Under affordable housing law, the builder would get the right to build 1,755 "bonus" units for building the 195 COAH units the Township owes.
Today, there are only about 3,400 housing units total in Clinton Township. If this catastrophe seems remote, look at The Mews — 222 units built under such a lawsuit. So was Water's Edge. So was The Hills in Bedminster. (The Mews was approved while Imbriaco was chairman of the township's planning board. So was Water's Edge. He's a master at letting developers get bonus housing.)
Look , it's a COAH solution!
At the June 11 council meeting, after months of hard work, the council was ready to vote to acquire a new piece of land that could actually support the housing units required for the COAH obligation. The 60+ people at the June 11 council meting understood what the Township's planner, engineer, and project manager said.
Windy Acres is dead as a COAH solution. The enormously risky sewer plant for a Windy Acres COAH solution would take 5 years at best. That means Windy Acres is just as dead today as it was in 2010 — and Imbriaco and Marra have known it all along.
Pulte Homes abandoned Windy Acres for this very reason — and lost an estimated $25 million. Ignoring all facts and testimony, Jim Imbriaco and Peter Marra kept looking around on June 11, saying, "Look, it's a COAH solution!", chanting that the units can be built on Windy Acres and that sewer service is no problem.
When they were confronted, Imbriaco stood up and, rather than defend his position, walked out of the council meeting before it adjourned. He did the same thing at the last council meeting when he was questioned about his COAH promises.
Imbriaco & Marra put township at risk for more lawsuits
While Imbriaco chaired the township's planning board, the township was always being hit by lawsuits from developers suing for the right to build housing under affordable housing law — and they kept winning. They got The Mews, they got Water's Edge, and they almost got Windy Acres — until 3,600 residents organized to stop Imbriaco. Now Imbriaco and Marra are positioning the township for yet another builder's lawsuit.
The 2010 plan exposes Clnton Township to loss of its "substantive certification." This is COAH's protection against builders suing for the right to build the 195 COAH units we owe — along with a "bonus" of 1,755 more units with automatic high density zoning. To put that in perspective, the township presently has about 3,400 housing units.
Imbriaco & Marra have already cost the township a higher obligation
While Imbriaco, Marra, Peck, and Harmen Vos controlled the town council and avoided building any units, 103 COAH credits against the obligation expired. Governor Christie's failed effort to "abolish COAH" did not eliminate or suspend the pre-existing obligation.
Last week Imbriaco and Marra voted against the new council's plan to acquire land where they can actually fulfill the obligation. (4 votes were necessary.) In spite of months of technical work they were privy to, Imbriaco and Marra said they didn't have enough information. They want it on Windy Acres, and claimed Readington will provide sewer capacity.
The township's COAH project manager reported that Readington said it has no capacity to spare.
Imbriaco: AWOL but voting
Councilman Jim Imbriaco missed the preceding 4 council meetings when plans for the new COAH site were detailed and discussed. Marra played along until it was time to vote. It was explained that time has run out — COAH requires a shovel-ready plan. Marra and Imbriaco voted NO.
Once again, the township "relies" on that same 2010 fraudulent COAH plan. Imbriaco and Marra made speeches after the vote, "explaining" that what they did was the right thing. But in four years they have delivered no COAH units for their own plan, or done any work to develop any alternative sites.
A history of reckless bad judgment
Councilman Imbriaco chaired the planning board when it approved The Mews and Water's Edge. In 2005, he tried to approve the Windy Acres "settlement" with Pulte Homes – 500 units. But a judge called Imbriaco and his planning board "arbitrary, capricious, unreasonable, and hostile" and said their actions were "unlawful and indefensible." The NJ DEP commissioner said Imbriaco's planning board failed to meet its legal obligations to protect the the state and Clinton Township. Then-State Senator Leonard Lance and the Hunterdon Freeholders intervened to stop Imbriaco and protect the Township — but he ignored Lance and attacked the Freeholders for "interfering." The Hunterdon Review said:
"… it would have been in Planning Board Chairman James Imbriaco's better interest to spend less time fighting with residents and more time listening to their concerns…"
Windy Acres died under Imbriaco's nose. He and Marra are still trying to resurrect it. And Imbriaco continues to fight without listening.
Imbriaco was removed from the planning board chairmanship in 2008, and from the planning board a year later. He left behind a legacy of appeasement, sprawl and higher taxes. His arrogance and disrespect are on the public record, complete with an audio record that he still tries to avoid.
In 2009, when he ran for council, Imbriaco wrote a letter to the editor:
"Having spent more than 15 years on the Clinton Township Planning Board, 12 as its chair, I can speak with authority and experience about land use matters and planning in our community…

…I'm running for council to insure the balance of our COAH obligations for the foreseeable future is developed at Windy Acres."
In 2010, Imbriaco got his wish: His very own COAH plan, in which he promised to build 124 units on Windy Acres by 2013.
Having never built anything to fulfill the obligation they authored themselves, on June 11 Imbriaco and Marra displayed a new level of bad judgment and arrogance while township professionals testified that Marra's and Imbriaco's "COAH solution" was impossible in the required time frame and inadvisable in general.
The Imbriaco-Marra Legacy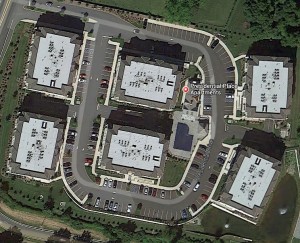 In 2008, Clinton Township sued COAH and the State of New Jersey because COAH's rules are ridiculous. But the township's COAH obligation was never suspended or eliminated — it was owed all through 2010-2014 while Imbriaco and Marra avoided fulfilling it. The township still must fulfill it — without the 103 credits, and without a good site to build it on.
Now, because Imbriaco and Marra voted against a solution for 195 units in a low-density, low-rise affordable housing plan, the only site the township owns that meets COAH requirements is the "Marookian" property on Rt. 31 across Regional Road from North Hunterdon High.
Residents of Clinton Township thought Windygate was over when the town bought the property. Now it's Windygate all over again.
The "195 on 5" COAH project will require 195 units on 5 acres in 7-8 storey buildings, higher and denser than Lebanon's Presidential Place on Cokesbury Road, 4 storeys of 150 units on 7.7 acres.
It'll be Peter Marra's and Jim Imbriaco's enduring legacy in Clinton Township. They deserve to have their names on it: The Imbriaco-Marra Legacy Towers.
: : :