Three years ago the Clinton Township School District invested heavily in "modern technology." We needed SMARTboards in classrooms. Still not completely deployed, SMARTboards are now old hat. The latest "gotta have it" Apple "educational technology" continues to drive our spending.
Today, according to the District Technology Plan:
"Additional whiteboards are the lowest priority (compared to projector and student computers) as the district considers mobile technologies (specifically the iPod Touch/iPad) as more valuable future investments."
Read it and weep.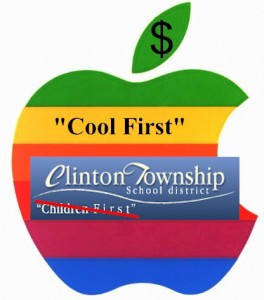 CTSD is getting 2 carts of 25 iPads each. Why? They're mobile. Will kids get to take them home? Are they more mobile than laptops?
Just what is the benefit of "mobile technology" in a stationary school?
From the technology plan:
"This year we will also begin deployment of mobile devices. Initially two iPod or iPad (depending on pricing and state of the technology) carts of 25 units each. These devices will be used to supplement the availability of student computers, and supplant older, more expensive laptops."
Really, now? The iPad runs $499-$829. A fully-loaded Acer laptop runs $359, including DVD drive, which iPad lacks. The main difference? iPads are cool. Gotta have 'em.
A recent article in Computerworld about Apple's release of the iPad 2 seems to explain why CTSD needs iPads:
iPad owners rush to dump old tablets for new model

By Gregg Keizer
March 3, 2011

Consumers unloaded their old iPads in unprecedented numbers so they can trade up to Apple's latest tablet, a gadget buy-back company said Wednesday.

The rush to dump the old and use the cash to buy the new is a good sign for Apple, said Boston-based Gazelle. "It was a perfect storm, in part because of the short time between the announcement and availability," said Kristina Kennedy, Gazelle's director of brand and communications, of the trade-in surge Wednesday.

"This as a very good indicator that Apple will sell a lot of iPad 2s." Wednesday's action on the iPad set a record for the company, with more consumers selling their now-old tablets in an hour than did iPhone owners last summer when Apple launched the iPhone 4.
Consumer lemmings to the Apple slaughter. Wasteful spending? Yes, it is, when the technology planners at CTSD select whiteboards and laptops for long-term deployment, then quickly decide it's old technology before it's even been fully deployed, and jump on the Apple Biz Plan bandwagon and tell us our kids need highly-mobile, more-droppable, keyboardless, removable-driveless, gee-whiz-ain't-it-cool consumer products.
What this smells like is a "gotta have it" consumer mentality that has turned the CTSD school budget into the realization of Apple's business plan. Turn in the old technology! Buy the new craze! You'll love it!
Parents and kids would love really good teachers who are happy, work hard, and stay in the district. Investments in actual classroom instruction still trump investments in "cool" — especially if the board of education and administration want taxpayers to consider voting yes on the school budget.
In the meantime, the much ballyhooed announcement of the "lower tax levy" on the CTSD website covers up a downplayed fact that voters should be aware of: CTSD's actual operating budget is higher than last year's. For what? iPads?
"Remember the iPads!" of 2008. Elaine Studnicki, CTSD's Technology Director, stood in front of the township council to defend the defeated school budget, and swore there were no iPads in the budget.
The Township auditor pulled out the page from the budget — which included $5,500 of iPads.
Studnicki: "No, no — We took them out!"
This year's mantra: Remember the iPads.
.